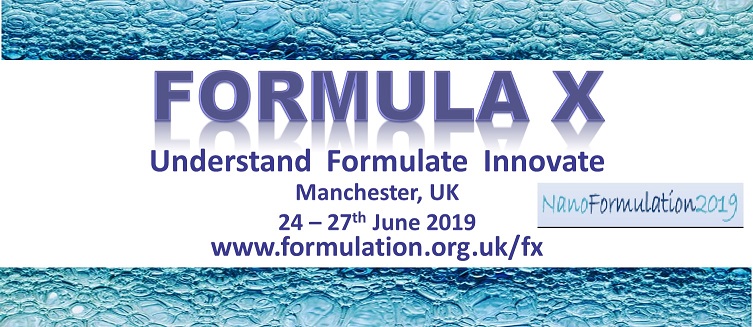 Poster deadline - 3rd June
The Formulation Science and Technology Group of the Royal Society of Chemistry is excited to be organising Formula X - Understand, Formulate, Innovate at The University of Manchester, following on from the first Formula in Asia, Formula IX - Multiscale Structures and Functionalities for Future Formulation which happened Beijing in October 2017. The first Formula conference was held in 1987, 31 years later Formula X will continue the tradition of bringing together the best industrial and academic science and engineering which are accelerating the application of formulation across Europe.
The conference theme of "Understand, Formulate, Innovate" highlights the direction of travel for the formulating industries where more research and development is now aimed at developing the understanding before formulation occurs, which is driving new types of innovation. While traditional formulation science research is still important it is now being applied to more and more complex formulations, and even for the most complex formulation digital techniques are being used to limit the formulation space that needs to be explored. Formula X will once again cover a broad range of formulating industries and the domain specific understanding which is key to successful formulation will be continue to a focus, the session chairs will also be tasked with highlighting cross-domain learning.
Formula X will commence at 2pm on Monday 24th June and formally end with lunch at 2pm on Thursday 27th, the organising committee are looking forward to welcoming you to The University of Manchester in June.
Plenary Speakers:
Professor Ijeoma F. Uchegbu - Chair in Pharmaceutical Nanoscience, School of Pharmacy, University College London - learn about Professor Uchegbu - research summary and biography
Dr Véronique Schmitt - CNRS Centre de Recherche Paul Pascal, Bordeaux - learn about Dr Schmitt - some of Dr Schmitt's latest publications - PubFacts
Dr Valeria Garbin - Department of Chemical Engineering, Imperial College London - learn about Dr Garbin's research - research overview
Professor Ricky Wildman - Centre for Additive Manufacture, University of Nottingham - learn about Professor Wildman - research summary
Themes:
Organising Committee
Dr Flor Siperstein - The University of Manchester
Dr Helen Ryder - The University of Manchester
Professor Simon Gibbon - AkzoNobel R&D / RSC FSTG
International Scientific Advisory Board
Petra Allef, Evonik
Alain Durand, SCF-Groupe Formulation, Univeristy of Lorraine
Ulla Elofsson, RISE Research Institutes of Sweden
Karin Persson, RISE Research Institutes of Sweden
Jordi Esquena, IQAC-CSIC / GECI
Malcolm Faers, Bayer
Andreas Forster, Dechema
Sirnon Gibbon, FSTG-RSC / AkzoNobel R&D
Cecile Pagnoux, SCF/ University of Limoges / ENSCI-CNRS
Frank Runge. BASF
Bernd Sachweh, BASF
Flor Siperstein, FSTG-RSC / The University of Manchester
Gordon Tiddy, The University of Manchester / RSC
Local Organising Committee
Richard Bryce - The University of Manchester
Rosa Cuellar Franca - The University of Manchester
Claudio Pereira da Fonte - The University of Manchester
Alain Pluen - The University of Manchester
Thomas Rodgers - The University of Manchester
Helen Ryder - The University of Manchester