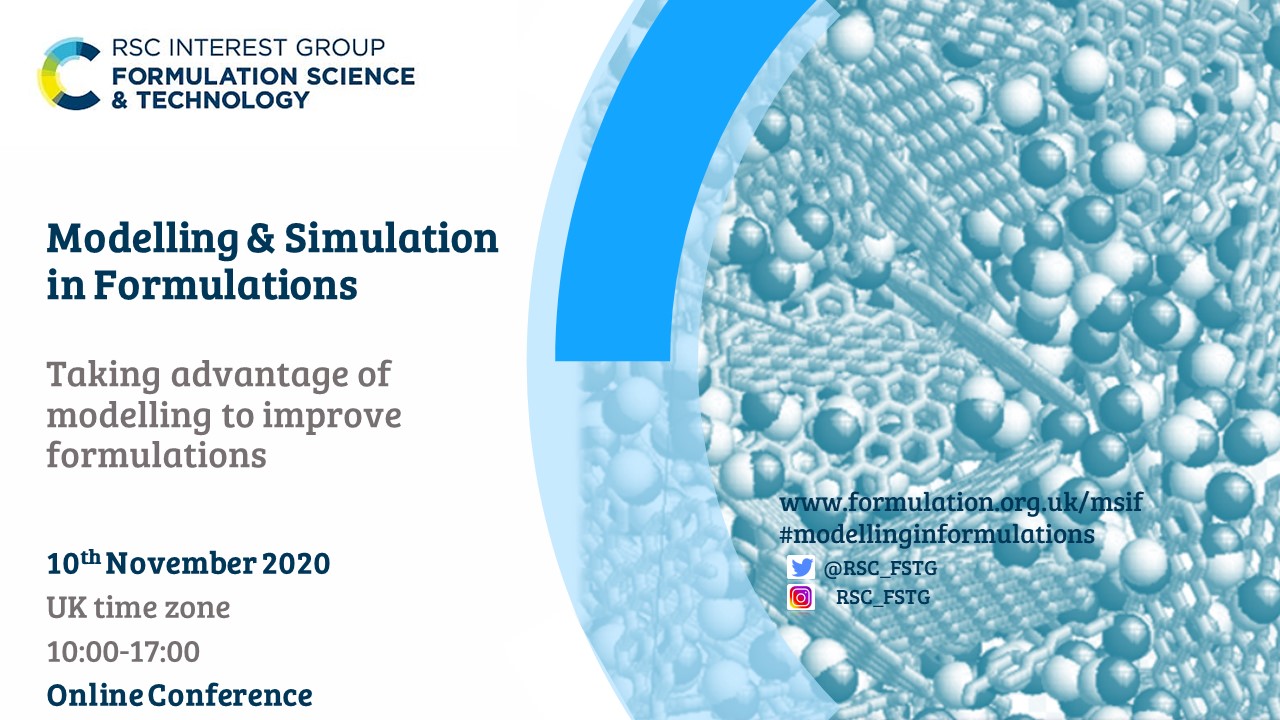 Modelling & Simulation in Formulations
Modelling & Simulation in Formulation showcased tools and methodologies available to use mathematical modelling and computer simulations to aid the formulation development.

The importance of mathematical modelling and computer simulations is increasing in many fields, and Formulation Science and Technology is no exception. In this meeting we highlighted novel approaches and ongoing activities taking advantage of modelling and simulations to improve formulations.

In the recordings you will hear about predictions of polymer properties for product formulation to Computational Fluid Dynamics (CFD) and beyond. Can molecular and mesoscopic simulations aid formulation development? Topics include atomistic and mesoscopic simulations, coarse-grain simulation, rheology, CFD, optimisation, machine learning, big data and data mining.

The scientific schedule consists of invited talks, plenary talks and poster sessions from Industrial and Academic speakers. It covers a broad range of topics, from cutting-edge technologies to applications and discoveries, bringing together scientists from all around the world and from many related fields. The meeting also included the 2020 Dr Elizabeth Colbourn Memorial Lecture by Prof. Claire Adjiman from Imperial College London.
You can read the abstracts and listen to the recordings here -
Programme
.
Some of the speakers
Prof Claire Adjiman - Imperial College London

Dr Luca Mazzei - University College London

Dr Breanndán Ó Conchúir - IBM Research Europe
Dr Cláudio Fonte - University of Manchester

Dr Annalaura Del Regno - BASF

Prof Georgios Kontogeorgis - Technical University Denmark

Dr Misbah Sarwar - Johnson Matthey
Dr Valeriy Ginzburg - Dow, Inc. (retired)
Mr Zayeed Alam - Procter & Gamble
Organising committee
Dr Flor Siperstein,

University of Manchester

Dr Bernadeta Pochopien,

BP

Dr Caroline Kelly,

CPI, United Kingdom

Dr Vivian Christogianni,

FormFormForm Ltd
Organisers