Abstracts - Poster Programme
Abstract submission is now open
We would now like to offer an opportunity to submit papers for this conference in the general field of functional films and coatings. Areas to be considered include novel routes to their manufacture, the properties that such products exhibit, whether in the area of thin films or coatings based on multicomponent formulations. Other topics could include the analysis of such material. The application areas can be anything from pharmaceutical, cosmetics, agrochemicals, veterinary, to smart materials such as inks and adhesives.
Authors of successful abstracts will be offered the opportunity to present a poster on the topic, with ample opportunities to present your work which you will be able to promote in the form of a flash poster presentation early in the day.
Abstracts should consist of a one- paragraph summary (ca 150 – 200 words) and the contact details of the authors and a contact address.
Abstract Template - abstract template.doc.
Once complete this should be sent as a word document to the conference secretariat This email address is being protected from spambots. You need JavaScript enabled to view it. as soon as possible and by Monday 21st October for poster abstracts.
N.B. We are able to offer a limited number of free student places to students who submitted an abstract which is accepted - email This email address is being protected from spambots. You need JavaScript enabled to view it. with including your poster abstract as soon as possible to request a free student place.
Click on title to display abstract.
Property Enhancement of Healable Supramolecular Polyurethanes
S. Salimi 1, L.R. Hart 1, A. Feula 1, D. Hermida-Merino 2, A.B.R. Touré 3, E.A. Kabova4, L. Ruiz-Cantu 3, D.J. Irvine 3, R. Wildman 3, K. Shankland 4, W. Hayes 1,⁎
a Department of Chemistry, University of Reading, Whiteknights, Reading RG6 6AD, UK
b Netherlands Organisation for Scientific Research (NWO), DUBBLE @ ESRF, The European Synchrotron Radiation Facility, 71 Avenue des Martyrs, 38000 Grenoble, France
c Faculty of Engineering, The University of Nottingham, University Park, Nottingham NG7 2RD, UK
d School of Pharmacy, University of Reading, Whiteknights, Reading RG6 6AD, UK
Two methods of using electrochemical sensing techniques to assess anticorrosion performance of organic coatings.
Raul Davalos-Monteiro a, b, Gianfranco D'Ambrosio b, Xiaorong Zhou a, Simon Gibbon c and Michele Curionia
a Corrosion & Protection Centre, School of Materials, The University of Manchester, Manchester, UK
b AkzoNobel, Powder Coatings, Como, Italy
c AkzoNobel R&D, Felling, UK
Property Enhancement of Healable Supramolecular Polyurethanes
Salimia, L.R. Harta, A. Feulaa, D. Hermida-Merinob, A.B.R. Touréc, E.A. Kabovad, L. Ruiz-Cantuc, D.J. Irvinec, R. Wildmanc, K. Shanklandd, W. Hayesa,⁎
a Department of Chemistry, University of Reading, Whiteknights, Reading RG6 6AD, UK
b Netherlands Organisation for Scientific Research (NWO), DUBBLE @ ESRF, The European Synchrotron Radiation Facility, 71 Avenue des Martyrs, 38000 Grenoble, France
c Faculty of Engineering, The University of Nottingham, University Park, Nottingham NG7 2RD, UK
d School of Pharmacy, University of Reading, Whiteknights, Reading RG6 6AD, UK
This email address is being protected from spambots. You need JavaScript enabled to view it.
Polyurethanes have a wide application because of their processability, low weight and resistance to many external conditions ranging from coating, adhesive and sealant industry to medical and automotive. Low molecular weight additives (LMWA) which can cooperatively self-assemble with supramolecular polyurethanes via complementary hydrogen bonding interactions offer an attractive route to enhancing the properties of polymer networks.1 In this study2 we have proposed a facile one-pot-no-purification route to synthesis of reinforced polyurethanes by taking advantage of the bis-urea by-product as LMWA (Scheme 1). A series of these materials with a varied loading of LMWA were synthesised and characterised. These additives are able to self-assemble with analogous recognition motifs within the polyurethanes to form polar 'hard' domains, promoting phase separation within the material and, crucially, increasing the strength of the polymer network. An alternative preparation method comprising the LMWA blended with the supramolecular polyurethane was utilised to examine the effect of material preparation and filler dispersion. Interestingly, the blended material exhibited inferior mechanical performance as a result of modest dispersion. This methodology may find use in industrial applications in which enhancements to the physical and mechanical properties can be achieved through effortless and efficient in-situ synthesis of LMWA within the polymerisation.

Scheme 1: Polydiol (black) reacting with hydrogen bonding motif (grey) bearing endcapped polymer (black/red) and LMWA (blue).
1 D. J. Cornwell and D. K. Smith, Mater. Horizons, 2015, 2, 279–293.
2 S. Salimi, L. R. Hart, A. Feula, D. Hermida-Merino, A. B. R. Touré, E. A. Kabova, L. Ruiz-Cantu, D. J. Irvine, R. Wildman, K. Shankland and W. Hayes, Eur. Polym. J., 2019, 118, 88–96.
Two methods of using electrochemical sensing techniques to assess anticorrosion performance of organic coatings.
Raul Davalos-Monteiro a, b, Gianfranco D'Ambrosio b, Xiaorong Zhou a, Simon Gibbon c and Michele Curionia
a Corrosion & Protection Centre, School of Materials, The University of Manchester, Manchester, UK
b AkzoNobel, Powder Coatings, Como, Italy
c AkzoNobel R&D, Felling, UK
Contact: This email address is being protected from spambots. You need JavaScript enabled to view it., This email address is being protected from spambots. You need JavaScript enabled to view it., This email address is being protected from spambots. You need JavaScript enabled to view it.
A wide-ranging definition describe a sensor as a device, module, or machine, whose purpose is to detect events or changes in its environment and respond the information to frequently a computer processor where is normally quantified. The specific inputs for sensing could be any one of a great number of environmental phenomena, like light, motion, heat, current, pressure. Etc. In the world of organic coatings sensing has a vast number of applications, passing from all the industrial phases from formulation, testing and production.
During the development cycle of new protective organic coatings, a substantial amount of time is dedicated to perform corrosion testing, in order to ensure adequate field performance. Reducing the time related with corrosion testing would significantly reduce development time and decrease costs. Unavoidably, laboratory corrosion testing relies on some degree of acceleration of the, often unknown, failure mechanisms. Excessive acceleration of one degradation mechanism with respect to the others might result in poor or absent correlation between laboratory testing and field environment results. Thus, some of the most popular technological corrosion testing methods require long times.
This work aims to obtain early information on corrosion progress during ISO 20340 cyclic corrosion test by using electrochemical impedance spectroscopy (EIS) measurements. The ISO 20340 cyclic corrosion test, consisting of consists of 3-day exposure in neutral salt spray, according to ISO 9227, followed by 3 days exposure to UV/condensation degradation, according to ISO 11507:2007, followed by 1 day exposure to freezing temperatures at (-20±2) °C), was applied to 16 different paint systems. At selected times, EIS spectra were acquired, and corrosion indicators were extracted by equivalent circuit fitting.
A complementary comparison on the electrochemical behaviour of the powder coating systems was done by the acquisition of electrochemical data obtained by the application of potential (voltage) sinewave signals onto two well-known field performance samples. The result of this sensing approach delivered faster conclusion and a good correlation to the performance on the field.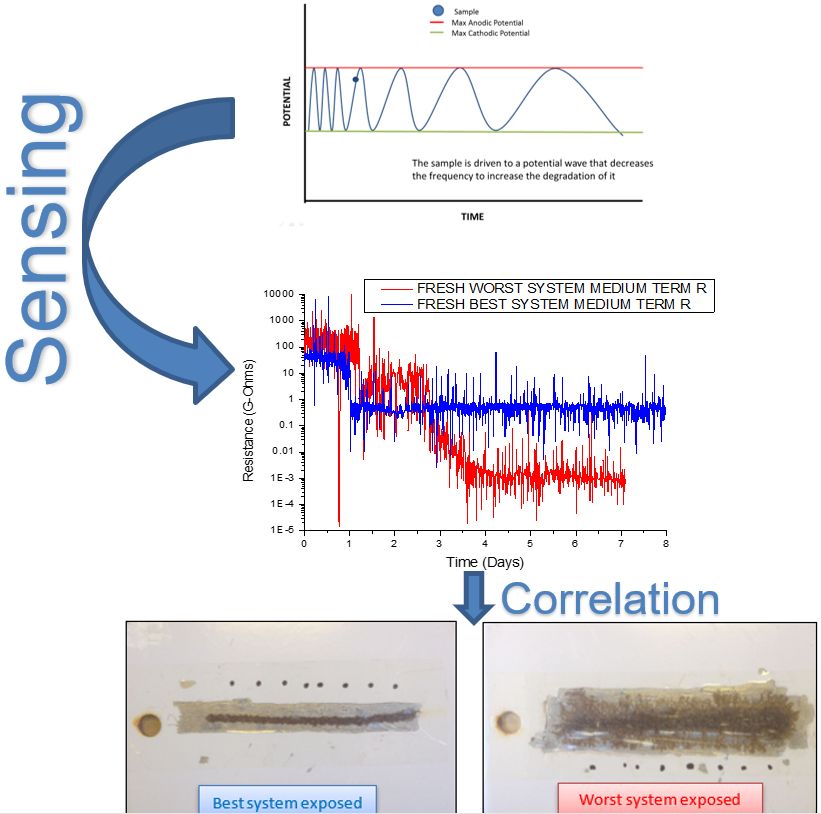 Figure: Potential Sinewave Method
The results indicate that the corrosion indicators obtained from sensing electrochemical signals can, in most cases, be successfully used to assess the corrosion damage during a cyclic corrosion test or an immersion test, providing indication of failure and a ranking of the anticorrosion performance of the coatings at a relatively early stage of the test.
Keywords: Electrochemical Impedance Spectroscopy; Accelerated Corrosion Testing; Corrosion Correlations; Powder Coatings; Corrosion Propagation; Electrochemical Methods: Sensing; Potential sinewave, Field Performance